SPIROMETRY - pulmonary function test
---
WHAT DOES THE RESULT CONTAIN?

As you can see, many numbers and graphs :)
SPIROMETRY CURVE

---

This is a spirometry curve represemted by a graph named BOX-PLOT.

VOLUME-TIME CURVE

---

This is a special curve created from the Spirometry curve.

FLOW-VOLUME LOOP

---

This is a special curve created from the Volume-Time curve.
DATE AND TIME

---

These dates and times tell us, when were the spirometry assessments provided. The first spirometry was provided on April 17th, 2012 (denoted by PRE). The second spirometry was provided on May 3th, 2012 (denoted by POST).

PREDICTED VALUES

---

Predicted values are values which should be achieved by a healthy human - non-smoker, who has the same sex, height and weight as the tested patient.

MEASURED VALUES

---

Measured values represents patient's values measured during the two assessments, PRE (April 17th, 2012) and POST (May 3th, 2012).
WHAT ARE WE GOING TO DO WITH THAT RESULT?

We solve small mathematical problems. These problems help us to create the whole spirometry result. In addition, they also show us medical meaning of information hidden in the result.
The tasks are split into 3 parts. The first part is dedicated to the Spirometry curve. The second part is dedicated to the Volume-time curve and the last one, to the Flow-volume loop. At the end of every part we can find a summary and a game - a price for your hard work :).
WHAT IF I CAN NOT SOLVE THE PROBLEM? OR IF IT IS TOO DIFFICULT FOR ME?

Do not worry! There is a "helper" for every task!
Ask for a help if you need it...
HELPERS
If you do not know how to solve the problem, ask for a help!
Helper is an advice. It shows you, how you should think about the problem if you want to solve it.
Helpers are denoted by the same number as tasks and you can find them on every page if you click on a BULB on a menu located in the top-right corner.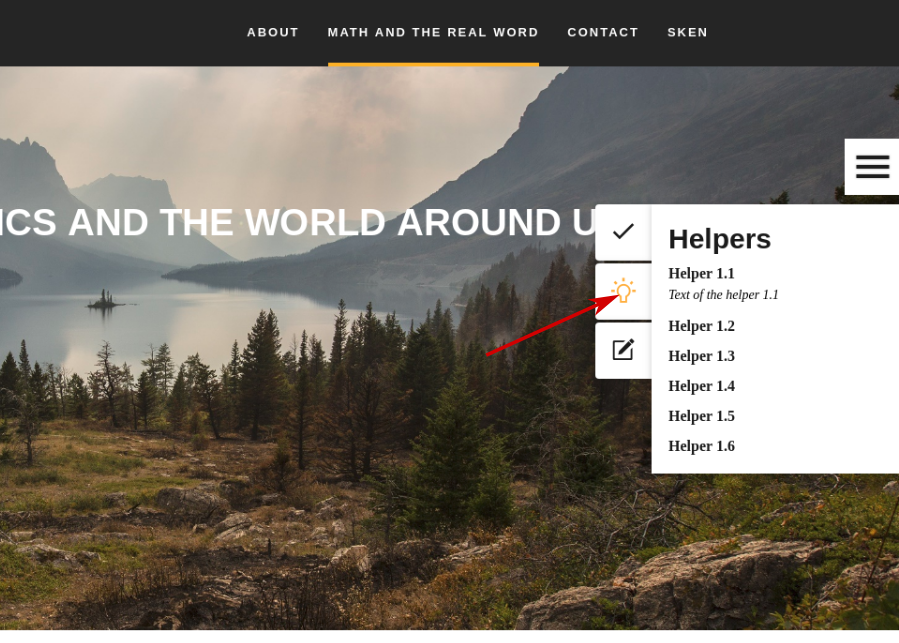 Ask your friends...
FORUM - CHAT
If you do not know how to solve some problem, ask your friends!
Many times, if you have a problem, there are many people who were in the same situation as well. For these situations we prepared the forum for you. You can discuss freely, without any annoying registration there!
Forum, or Chat, is also located on every page and you can find it if you click on a PEN on a menu in the top-right corner,